French police fire tear gas at Paris Euro 2016 fan zone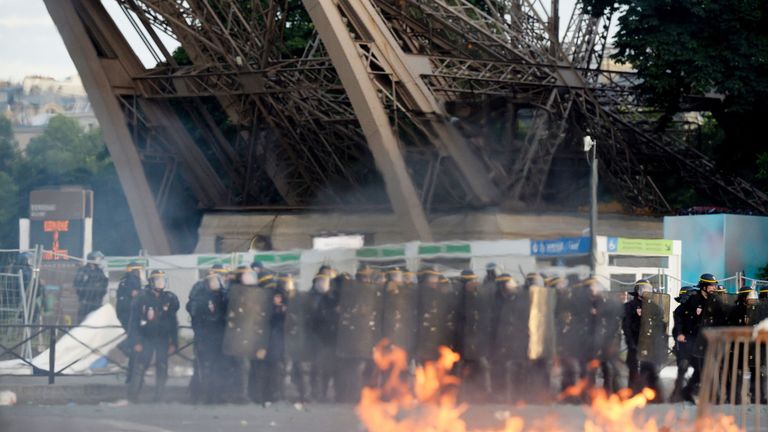 French riot policemen fired tear gas after supporters tried to enter the fan zone
French riot police reacted with tear gas during clashes near the Eiffel Tower at the Paris fan zone during the night of the final of EURO 2016.
The trouble began after the fan zone, which featured a giant screen relaying the final between France and Portugal, was closed before kick-off after it reached its maximum capacity of 90,000 at 5pm UK time.
This caused disappointment and anger among those waiting to be admitted.
Sky Sports News HQ understands there was at least another 90,000 people hoping to watch the match on the big screen.
French police fired tear gas to disperse dozens of people who tried to force their way into the fan zone at the foot of the Eiffel Tower.
The police had previously posted a message on Twitter and issued warnings in the metro system informing supporters the fan zone was full.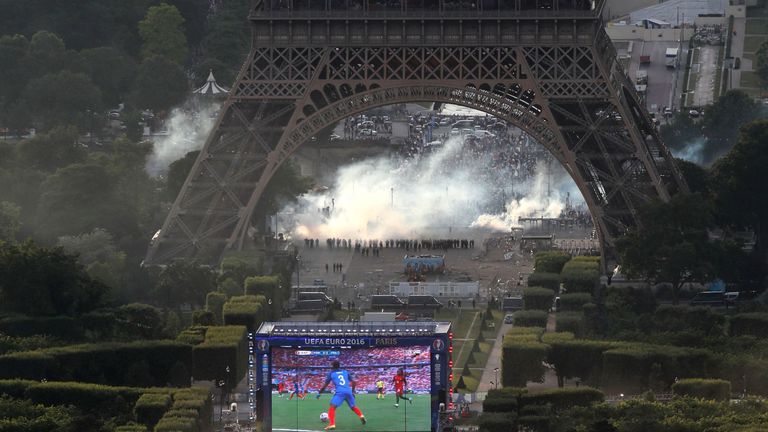 The fan zone had already reached its maximum of 90,000 hours before kick off
The base of the Eiffel Tower was engulfed in clouds of tear gas as riot police repelled the demonstrators, who started fires on the pavement and threw bottles and other objects at the police lines.
The police also used water cannons to extinguish the blazes.
Mathias Vicherat, the Paris mayor's chief of staff, said on Saturday that 1,900 police and other security officers would patrol the fan zone in the shadow of the Eiffel Tower.
The city's police chief, Michel Cadot, said 3,400 officers would patrol the Champs-Elysees, where fans were expected to mass after the match.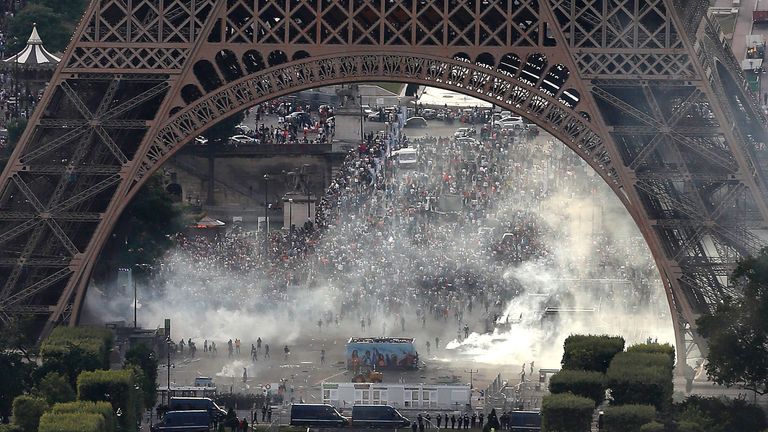 The police also used water cannons to extinguish fires
This is just the latest security incident French Police have faced during the tournament.
There was violence in Marseille and Lille as England and Russia fans clashed during the opening week of the tournament